Killer Samurai Sudoku
Killer Samurai Sudoku is a combination of Killer Sudoku and Samurai Sudoku. They are merged together to create a challenging variation of Sudoku for the many sudoku addicts who want to solve more challenging puzzles. Melvyn Lawes a visitor to this site has created several of these puzzles and they can be downloaded along with their solutions below for free in a printable word document.
Colour Killer Samurai Sudoku Puzzles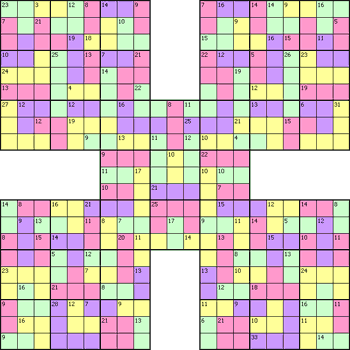 Killer Samurai 10 - Download
Killer Samurai 10 Solution - Download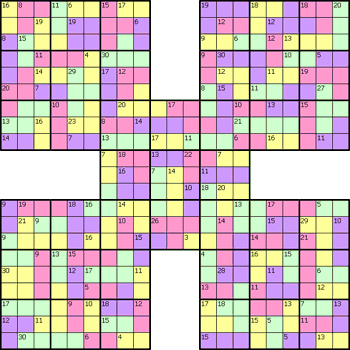 Killer Samurai 11 - Download
Killer Samurai 11 Solution- Download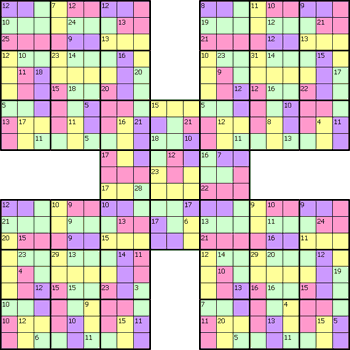 Killer Samurai 12 - Download
Killer Samurai 12 Solution - Download
Killer Samurai Sudoku Rules
Killer Samurai is an advance variation of Sudoku. Before undertaking a Killer Samurai Puzzle it is very advisable to have a go at solving a Killer Sudoku puzzle as Killer Samurai is almost identical to killer sudoku except it comprises of 5 interlocking killer sudoku grids. If you can solve a killer sudoku puzzle then there is a good chance you can solve these puzzles. As a quick review the rules are as followed:
In each coloured area there is a small number. This represents the total of all the numbers in that coloured area. To solve the puzzle you must make sure that every column, row and every 3x3 box in each larger 9x9 grid contains the numbers 1 through to 9.
A few tips to bear in mind: Remember that there is often a limited combinations for each area. For instance if there are two cells in a coloured area that total up to 5 then there is only two combinations. That of 1 and 4 or 2 and 3. The other tip which is very useful for starting a puzzle is to remember that each 3x3 area totals up to 45. This means that if all the coloured groups are all contained in a 3x3 area except for 1 square. Then that square can be worked out. Because if you total those coloured areas and then minus 45 then you will have calculated the value that must go in the square sticking out of the 3x3 area. (Hopefully I will be able to write some tutorials on solving a Killer Samurai Puzzle soon.)
Killer Samurai 10 in Black and White
The puzzles above are in colour as it makes it easier to recognise the coloured cage areas. However, I appreciate the problems with printing in colour. So for those without access to colour printers I have produced a black and white version.
At the moment only one of the puzzles is available as black and white as this is just a trial. I welcome your feedback on this puzzle below.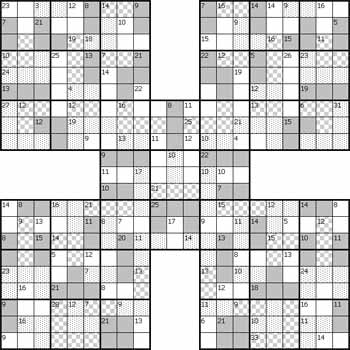 Killer Samurai 10 BW - Download
Solution available in colour only - Download
Killer Samurai Sudoku in the Media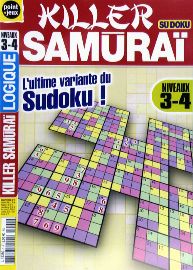 Multimedia Press in France have produced a new magazine which will feature the Killer Samurai Sudoku puzzles from this site. The magainze entitled "Killer Samurai Sudoku" l'utltime variante du Sudoku! is as far as Iam aware the first magazine to print this type of puzzle.
If you are interested in publishing these puzzles then please get in contact.
More Killer Samurai Sudoku
If you are interested in this advance and unique variation of sudoku then you can find more of Melvyn's Killer Samurai Sudoku puzzles and further developments at its dedicated home at: killer.4thewww.com. A new puzzles is added once a week.
The page that used to be here along with the older comments has been moved/archived and can be found if your interested here. More puzzles can be found here.
Please feel free to solve and enjoy these puzzles and if your want to, leave comments at the footer of this page. Once again I would like to thank Melvyn Lawes for this contribution
Publishers - Are you interested in publishing these unique Killer Samurai Sudoku Puzzle on a weekly or one off bases? If so please contact me with the details of your magazine/publication.
---
3 Comments
Please make more killer samurai in black and white.
Thank you ... the challenge is awesome.
Comment 1 by az. Made on the 20th Nov 2012.
Please could you e-mail me with the solution to Killer Samurai 24.
Comment 2 by Michael Bannister. Made on the 10th Jan 2013.
LOVE THEM ALL!!!!ITS MY CUP OF COFFEE.
Comment 3 by EDROED. Made on the 11th Jan 2013.
What is Sudoku?

Sudoku is a Number Puzzle that requires no mathematical knowledge. (no adding or multiplication). It is based upon Japanese style crosswords where you are required to use logic to place numbers onto a 9x9 grid.
Rules

To solve the puzzle you must make sure that every column, row and 3x3 box contains the numbers 1 through to 9. Almost all of the puzzles can be solved using logic alone and there is no need to guess. A puzzle can take from 20 minutes to 2 hours to complete depending on its level and your experience.
Sudoku Fact

For a 9x9 puzzle to have precisely one solution, the initial entries need to include at least eight of the nine digits.
Sudoku Fact

The smallest number of starter clues on a sudoku puzzle is 17.
Sudoku Fact

Sudoku became a world hit in 2005. When measuring its popularity in enigmatic world, it is the biggest phenomenon since Rubik's Cube in the '80s.
Sudoku Fact

Some people call it newspapers saver because it boosts their sales and keeps the reader audience active. Newspapers around the world embraced it immediately because people like to solve Sudoku on a daily basis, just like crosswords.
Sudoku Fact

By playing it regularly you can boost your concentration and focus, prevent or ease depression, dementia and even Alzheimer's disease according to some studies.